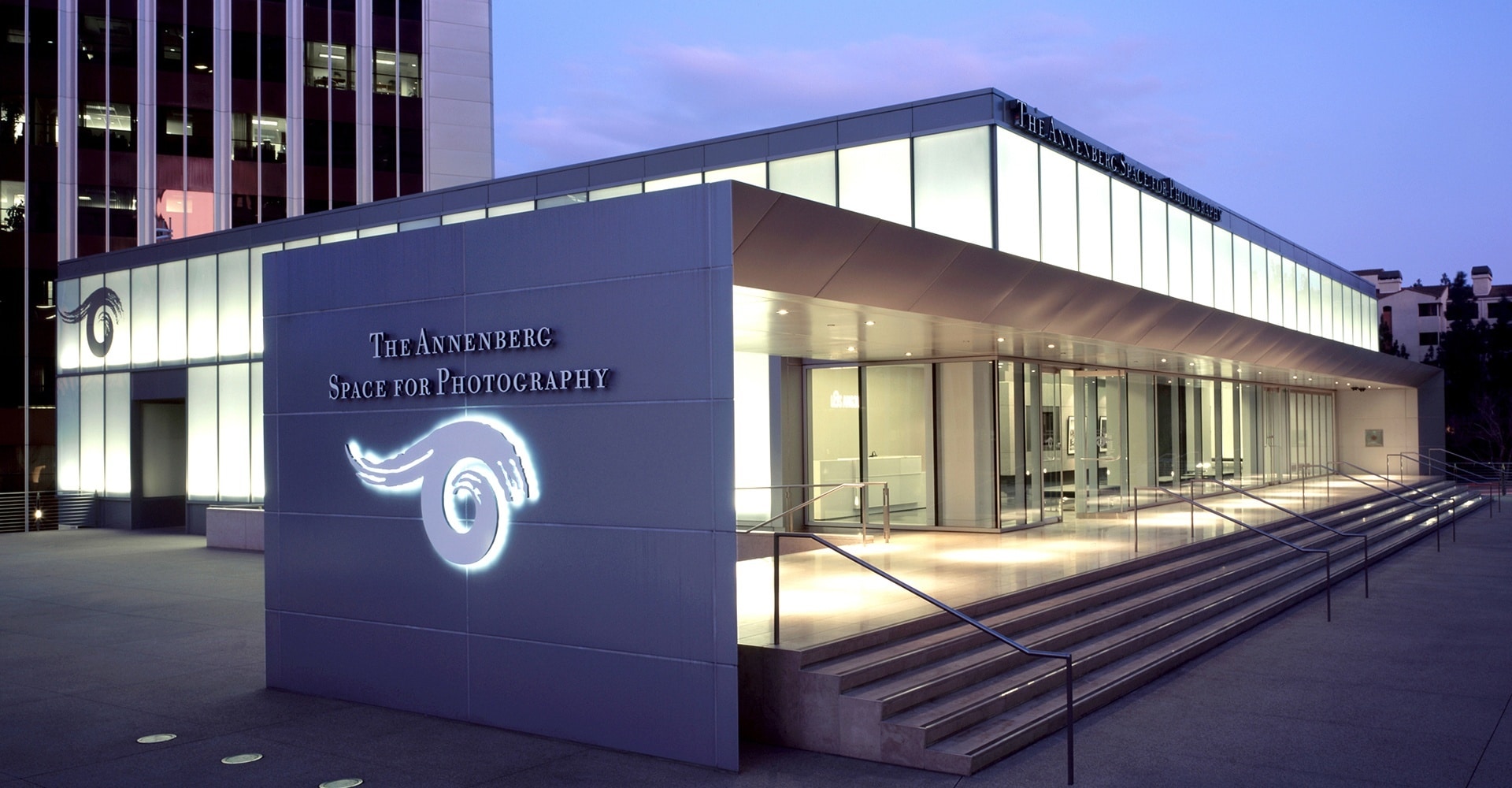 About the Space
A Cultural Destination for Photography
The Annenberg Space for Photography is a cultural destination dedicated to exhibiting both digital and print photography in an intimate environment. The space features state-of-the-art, high-definition digital technology as well as traditional prints by some of the world's most renowned photographers and a selection of emerging photographic talents as well. The venue, an initiative of the Annenberg Foundation and its trustees, is the first solely photographic cultural destination in the Los Angeles area, creating a new paradigm in the world of photography.
Photo by: © 2009 Julius Shulman & Juergen Nogai
Photography is one of the most accessible and personal forms of art. We see the creation of the Annenberg Space for Photography as a service to the community where visitors can see the world through a different lens and leave feeling motivated to make positive change.

Wallis Annenberg

Chairman of the Board, President and CEO of the Annenberg Foundation
Annenberg Foundation Trustees
FAQs
Visiting and Private Events
How much is admission to the Annenberg Space for Photography?
Admission to the exhibits at the Space is free. Some workshops, forums and other special events may require registration fees.
How often do exhibits change at the Photography Space?
Exhibits change every three to six months.
How do I arrange a tour of the Space?
You can learn more about our daily tours for individuals and group tours here. To arrange a group tour, please complete our online School & Group Request form.
Can I hold a private event at Annenberg Space for Photography?
For more information or questions about renting the Photo Space for your event, please email [email protected].
Are you hiring? Where can I send my resume?
Job openings are listed on the Annenberg Foundation's website. All inquiries regarding employment should be sent to [email protected].
I am a photographer and would love my work to be exhibited at the Photography Space. How do I submit my work?
Because of overwhelming interest, we unfortunately cannot accept unsolicited submissions at this time.
Programming Events
How do I register for programming events?
Registration for our public programs is first-come, first-served for our free programming and available for a fee for our paid events. Visit our programming page for a list of upcoming public programs.
The tickets sell out quickly – why does this happen?
Since the programming events launched in 2009, they have grown tremendously in popularity. Due to the size of our venue, we have more interest in the programming events than we can accommodate. Make sure you've signed up for our newsletter to be among the first to know when new events are announced.
I can't attend the programming event. Is there another way for me to see it?
Occasionally our free programming events will be available on Facebook live. Make sure to like our page to receive notifications when programs go live. Videos will live in our feed thereafter. To view a past lecture, visit the Watch page.
I registered online for an programming event, but the tickets were never sent to my email account. What should I do?
If you receive a web page confirmation after registering for a programming event online but do not receive an email confirmation, your ticket(s) have most likely been reserved. We find that tickets often don't make their way to the recipient due to a misspelled email address in Eventbrite. If you did not receive a confirmation email you are not registered for the event. Please review your email address in your Eventbrite profile, or feel free to contact us if you would like to confirm that your name is on the list of registrants.
Once I arrive at Annenberg Photo Space for a programming event, how do I check in?
You have two options for checking in at a public programming event: bring your printed ticket with you or simply provide the name of the person who registered for the ticket to a guest service associate at the front desk upon arrival.
How do I cancel my programming event ticket reservation?
If you have reserved a free ticket to one of our programming event and find that you are unable to attend, please notify us by email at [email protected]. If you have paid for a ticket to one of our programs, please refer to the returns policy on the ticket or Eventbrite page where you purchased the ticket. Typically all ticket sales are final unless there is a waitlist, in which case refunds will be honored in the order they are received (with a minimum of 36 hours notice prior to event start, submitted via the appropriate Eventbrite refund request form).
Location
2000 Avenue of the Stars
Los Angeles, CA 90067
Contact
Tel
213.403.3000
Fax
213.403.3100