Wade Davis
The Wayfinders: Why Ancient Wisdom Matters in the Modern World
Wade Davis discusses his extensive career as an anthropologist, author, photographer and filmmaker.
Speaker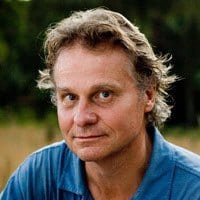 Wade Davis
An Explorer-in-Residence at the National Geographic Society, Wade Davis has been described as "a rare combination of scientist, scholar, poet and passionate defender of all of life's diversity." An ethnographer, writer, photographer and filmmaker, he holds degrees in anthropology and biology and received his Ph.D. in ethnobotany, all from Harvard University. Mostly through…
View profile
Exhibit

no strangers explores the ways cultures express a shared humanity and navigate the circle of life.
You May Also Like
Exhibit

No Strangers: Ancient Wisdom in a Modern World

no strangers explores the ways cultures express a shared humanity and navigate the circle of life.

Photographer

Wade Davis

An Explorer-in-Residence at the National Geographic Society, Wade Davis has been described as "a rare combination of scientist, scholar, poet and passionate defender of all of life's diversity."