Topaz Adizes, Michael Kamber & Stephen Mayes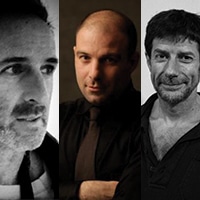 Stephen Mayes is Director of VII Photo in New York and was Secretary to the Jury of the World Press Photo Competition from 2004 to 2012. He has worked at the top levels of photography for 25 years, in the areas of journalism, art, commercial and fashion. He was SVP at Getty Images, leading the Creative Department's development of commercial content strategies, including Getty's early foray into journalism. He later becmae SVP at eyestorm.com, representing high-end artists in the consumer market.  Mayes worked with Art And Commerce as Director of Image Archive, representing top fashion and art photographers for commercial licensing.
In the last decade, Michael Kamber has worked primarily as a conflict photographer and has covered a dozen conflicts including Afghanistan, Somalia, Iraq, Liberia, Darfur and the Congo. He photographed the war in Iraq for The New York Times between 2003 and 2012. He has also worked as a writer and videographer for that newspaper, contributing dozens of articles from Haiti, Iraq, Afghanistan and West Africa. Kamber is the founder of the Bronx Documentary Center, a gallery and educational organization dedicated to documentary film and photography.
Topaz Adizes is an internationally award winning writer and director with films that have screened at festivals around the world, including Cannes, Sundance, SXSW and Cinéma Du Reél. Topaz works both in documentary and narrative fiction formats and oftentimes blends the lines between the two. He has traveled to over 50 countries, speaks four languages and has directed work in Cuba, Vietnam, Japan, Serbia, Albania, Mexico, Turkey, Dubai and Kenya.
Photo of Stephen Mayes: © Woong Jae Shin
As of March 23, 2013