Photo by: Timothy Greenfield-Sanders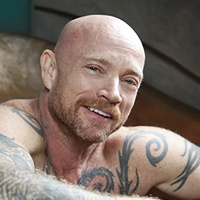 Buck Angel is an adult-film producer, performer (2007 AVN Transsexual Performer of the Year) and motivational speaker who also works as an advocate, educator, lecturer and writer. He has served on the Board of Directors of the Woodhull Sexual Freedom Alliance since 2010.
Buck Angel has struck a chord with people around the world with an empowering message of self-acceptance that goes beyond gender and genitalia. In fact, he has been hailed for leading the way for transgender men seeking self-acceptance without surgery.
As of September 2016