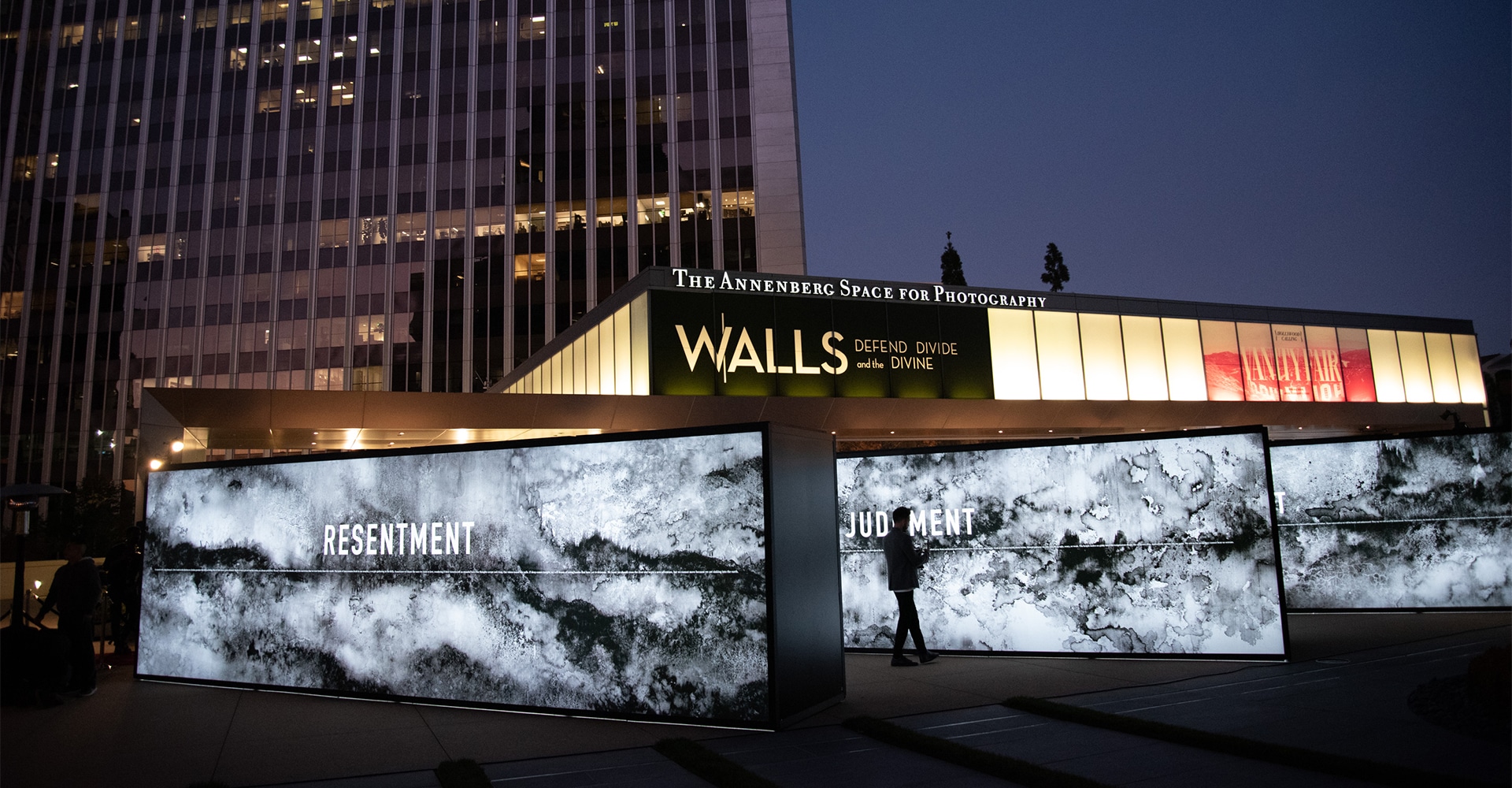 Light The Barricades
An Interactive Public Art Installation by Candy Chang and James A. Reeves
Light the Barricades is an interactive public art installation that reimagines the wall as a site for contemplating our inner obstructions. Shining a light on the difficult emotions which thwart our progress, this project is inspired by the ancient I Ching, a philosophical system of diagrams first carved into the wall of a prison cell 3,000 years ago.
By reconfiguring the experience of contemplative Chinese landscape scrolls, luminaries, and private devotional images, Light the Barricades provides a modern ritual for distracting times and offers an engaging opportunity to contemplate walls both physically and emotionally as part of the W|ALLS: Defend, Divide, and the Divine at Annenberg Space for Photography.
Illuminated from within, similar to a photographer's lightbox, each of the three walls represents an emotional barrier – resentment, judgment, and doubt – and offers an introspective site for visitors. It begins with a walk along its façade where a short fable on the subject leads the viewer along before they turn the corner to sit and reflect on their experience and emotional wellbeing.
The walls made their collective debut in September 2019 across Los Angeles, at Grand Park in Downtown LA, the Natural History Museum of Los Angeles County in Exposition Park, and the Annenberg Community Beach House in Santa Monica. Now, all three walls move to the plaza just outside the Photo Space for the duration of the W|ALLS exhibit.
---
About the Artists
For over a decade, Candy Chang and James A. Reeves have collaborated on internationally recognized projects that connect storytelling with contemporary rituals for self-reflection. They both grew up without any kind of faith or ritual in their lives. After reckoning with the trials of life and the dark alleys of the mind—death, depression, addiction, anxiety—they began to channel these concerns into their work, pursuing philosophy, psychology, and contemplative practices, both in their daily lives as well as their art-making practice. Their projects are inspired by a range of classical and contemporary rituals which feel increasingly resonant in our distracted age, from the devotional images of Catholicism to the ancient I Ching.
Their work has been described as "a wake-up call in our fast-paced digital age" (Ad Age), a "remarkably poignant, accessible, and affecting brand of art" (Pelican Bomb) with writing that offers a "unique point of view that is quirky, beautiful, disturbing, humorous, and at times unexpectedly and achingly moving" (Photo Life). Their most recent collaborative work, A Monument for the Anxious and Hopeful, functioned as a year-long catalogue of the ways in which we relate to the uncertainty of tomorrow and collected over 50,000 anxieties and hopes at the Rubin Museum of Art in New York City in 2018.